Sense of accomplishment is an essential aspect of self-improvement, as it provides you with a boost of self-confidence and motivation to continue pursuing your life goals. When we set a goal for yourself and achieve it, you experience a sense of satisfaction and pride in your abilities. This sense of accomplishment fuels your motivation and helps you to push yourself further, setting new goals and continuing to improve in various aspects of your life.
A sense of accomplishment is crucial for your mental health which directly affects the quality of your life.
It helps you to build a positive self-image and also, helps to increases your self-esteem, which can lead to higher levels of happiness and life satisfaction which are very much required.
Additionally, accomplishing a goal can provide a sense of purpose and meaning in your life, giving you more power to achieve more and to reach new heights in life.
This also helps you to build a new set of daily routines which of high standard.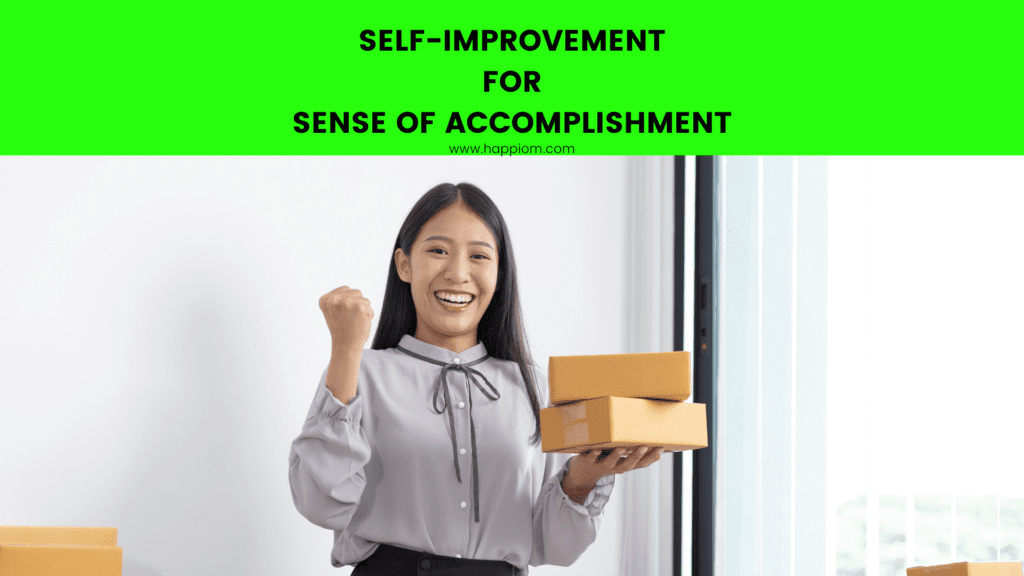 For sure, you can cultivate a sense of accomplishment through self-improvement activities that can be a powerful way for personal development.
By setting achievable goals in life and working towards those goals every day, you can increase your confidence, build necessary skills, and create a more satisfying life for yourself.
The following are the list of 50 self-improvement activities in a day that for sure gives you the sense of accomplishment:
Exercise
Meditate
Read a book
Learn a new skill
Take an online course
Practice a hobby
Listen to a podcast
Try a new recipe
Declutter your space
Learn a new language
Watch a documentary
Write a diary (try Happiom web or Happiom app for FREE)
Practice self-reflection
Take a cold shower
Practice self-care
Learn a new dance move
Spend time with a loved one
Watch a TED talk
Take a power nap
Spend time in nature
Practice deep breathing
Take a break from social media
Watch a motivational video
Do a puzzle
Practice yoga
Attend a virtual seminar
Write an email to a friend or family member
Learn to code
Volunteer for a cause you care about
Go for a walk or run
Learn to play a musical instrument
Attend a workshop
Create a vision board
Start a gratitude jar
Try a new workout
Learn to draw
Practice public speaking
Learn about a new culture
Attend a book club meeting
Take a digital detox
Practice forgiveness
Learn to sew
Try a new form of exercise
Watch a sunrise or sunset
Spend time alone
Take a social media break
Learn to meditate
Reflect on your accomplishments
"Be the change you wish to see in the world." – Mahatma Gandhi
What Next?
Latest on Happiom
Relief Stress & Create a Happy Life using Your Private Online Journal for FREE
Access your online diary from any device, any web browser powered by Google Cloud Drive & Data Analytics.